Getting Started In DSLR Video
In my last post, I talked about the three different options video professionals have for getting a versatile camera setup on a budget: renting high-end equipment, like a RED One; purchasing a mid-range professional camcorder, like the Canon XA10; or outfitting a DSLR – in my case, a Canon T3i – for pro video work.  After examining the costs and benefits of each, as well as the specific needs of my current projects, I decided that upgrading my existing DSLR was the best course of action.  In this post, I'll go into the specific equipment I decided to pick up in order to get my camera ready for professional shoots.
As I mentioned earlier, budget was a major factor when it came to choosing what equipment to get.  The price of video accessories and equipment can vary enormously between "consumer grade" and "professional quality."  You can pick up a tripod at Target for less than $40 – or you can order a $700 one from B&H.  Or, if you're really serious, you could drop more than five grand on the tripod head alone.  Parsing out the differences can be dizzying, especially since most pros will swear by their gear.  Make no mistake, if you need to depend on your video equipment to make a living every day, it is absolutely worth getting the best stuff.  The level of precision and craftsmanship in pro gear simply can't be matched by inexpensive imitators.  However, for those getting started, working within a tight budget, or who don't shoot full-time, there are almost always good quality, less expensive options out there – if you shop around and know what to look for.  As always, it's important to know whether or not the gear you get will meet your needs – if not, renting might be a better option.
Here are my picks for getting started with DSLR video like a pro – or, at least, semi-pro.  Nothing here is top-of-the-line, but it should cover the basics, give you a versatile set up, and keep you under budget.  Note that the prices I quote were accurate at the time of writing, but these things tend to fluctuate somewhat.  Be sure to check out the Complete Gear Guide for even more options!
Camera: Canon T3i
Cost:  Around $550 with lens, but frequently discounted 
Since I already own this camera, it was a no-brainer for me – but, even if I was starting from scratch, it would be a very solid option.  If you shop around, you can usually find it on sale somewhere, but don't confuse it with its cheaper sibling, the T3 – it doesn't shoot video.  The T2i, T3i, T4i, and newly announced T5i all have the same sensor and are all capable of producing lovely HD video.  The T3i and above have an articulated screen, which can be incredibly useful for shooting video – on the T4i and T5i, touchscreen functionality is added.  That wasn't worth the upgrade cost for me, but it's largely a matter of preference.  The T3i is also compatible with the third party Magic Lantern firmware upgrade, which is a big plus – but more on that in a bit.
The next step up from the T3i would be something along the lines of the Canon 60D, which has a number of improved features, but at a higher price tag.  If you have really deep pockets, the current crown prince of DSLR video is undoubtedly the Canon 5D Mark III, which retails for around $3000 for the body only.  I've done some filming on the Mark III and it's a truly impressive camera, capable of capturing stunning video – although, at that price, I might try to track down a Blackmagic Cinema Camera, a dedicated video camera that can shoot 2.5K RAW.
For any Sony or Nikon fans out there, I've focused on Canon because I already own compatible lenses and know, from experience, that the brand puts out a good product.  If you're looking for something different, I've read rave reviews of the Sony NEX line (which is not technically a DSLR, but shoots HD video).
Media: Transcend SD Cards
Cost: $13 for 16GB, $24 for 32GB
Most DSLRs use SD cards, but many still use pricier CF cards – a few, like the Canon 5D Mark III, use both.  For the T3i, I like Transcend Class 10 SD cards – they're cheap and reliable.  Whatever brand you buy, pay attention to the class – cards with lower classes (a measure of the read/write speed) may not be able to record video at the resolution or frame rate you want.  I find that 16GB or 32GB cards hit the sweet spot between price and volume.  If you're going to have a long shoot, grab a few extra – it will save you a headache later.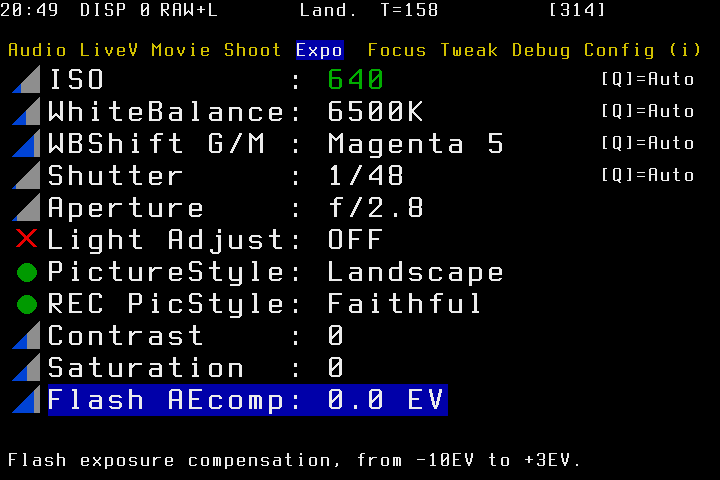 Camera Firmware: Magic Lantern
Cost:  Free!
If you're serious about shooting video on a DSLR – and have a compatible camera – you need to install Magic Lantern.  Magic Lantern is a free, open-source firmware that works with a number of Canon cameras.  It's an incredibly powerful toolset that gives a whole new level of manual control to DSLR video.  Since it's not officially supported by Canon, there are occasional bugs, but the this is a small price to pay for the added functionality.  If you do install it, follow the instructions carefully and check out some of the video tutorials to get a handle on what the software is capable of.  It's probably the best free upgrade you can give your camera.
Tripod: Davis & Sanford Provista 7518XB
Cost:  $190
I probably put more time and research into choosing a tripod than I did choosing a camera.  Having a decent set of sticks can make all the difference on a shoot and there are a number of fairly similar options in the $150 to $200 range.  I contemplated this model from Ravelli and this Varizoom, but a video review at DSLR Video Shooter eventually swayed me towards the Provista.  I love the design of the legs and I really wanted a tripod with a ball mount for the head.  Ball mounts allow you to get level without constantly fiddling with the legs, as well as letting you easily remove the head in order to mount it to a dolly or other rig.  This tripod also comes with some nice accessories, like two handles and a decent case.  It's reasonably light, smooth, and inexpensive, while still looking very professional.
Stabilizing Rig: Opteka CXS-300
Cost: $180
DSLRs do a wonderful job of filming while on a tripod – handheld, not so much.  The form factor of a still camera is just not designed for shooting video, which leads to shaky, out-of-focus, unusable footage.  A stabilizing rig might seem like an indulgence, but there are a ton of inexpensive options out there – and the quality of your handheld footage will improve dramatically.  Many rigs – even cheap ones – incorporate the industry-standard 15mm rail system, which allows you to customize and add on to your rig as you see fit.  Some rigs, like this highly-reviewed Polaroid kit, utilize a chest support for stabilization.  For around $60, it's an incredibly versatile and well-made option.  This $25 dollar rig clamps over your shoulder and straps onto your body to allow for hands-free filming – I've heard a number of video pros talk about using the support with a higher-end camera mount (like the aforementioned Polaroid unit or other rail system).  My personal preference is for shoulder rigs, which sit on top of the shoulder and often use a counterweight for balance.  There are dozens of  configurations like this one between $100 and $200 – many come with accessories like sun shades or follow focuses.  After reviewing more options than I'd care to admit – and seriously considering ordering the parts to build my own unit from scratch – I settled on the Opteka CXS-300.  I've used a number of Opteka components in the past and always been happy with the quality.  It's a two rail system, which allows for a lot of customization and makes the rig nice and solid, and the entire unit can be mounted to a tripod.  This lets you be very adaptable on set and makes your whole set up look more professional.  There is also an optional counterweight for maximum balance and stability.
Moving up one price bracket, I was sorely tempted by this $260 kit from P&C.  The number of options available in this set up are staggering and the build quality looks very good.  It's hard to imagine a more versatile rig at that price.  Check out this video for some possible configurations.  The shoulder pad, which can be re-configured into a chest support, is especially slick.
Follow Focus: The Fifty Dollar Follow Focus
Cost: $50 (big surprise)
A follow focus can be a very useful thing.  Focusing by hand – turning the focus ring on the lens – is usually jumpy and most DSLRs do not allow autofocus during recording.  On static shots, if you are focusing manually, a follow focus can really help dial in a pin-sharp image.  If you are shooting a rack focus shot, or need to adjust the focus during a moving shot, it allows you to do so without touching the lens and shaking the camera.  There are a few different follow focus designs out there – the most common type, like this Kamerar unit, utilize a large dial that turns a gear attached to the lens.  This is a good system, but it requires either attaching gear rings to each lens you want to use or switching the ring from lens to lens.  There are also gearless models that use friction to turn the focus ring on the lens directly.  I was drawn to the somewhat unconventional design of HONDO Garage's follow focus, which uses an elastic band and lever system.  The construction quality is great, the price is hard to beat, and the system seems to work very well.  HONDO initially financed the project through Kickstarter and it's great to see their continued success.
Keep in mind that every follow focus (at least that I'm aware of) requires some sort of rail system for mounting.
Sunshade: Generic DSLR "Matte Box"
Cost: $30
Matte boxes are adjustable shades that fit around the lens and allow light and glare to be blocked.  A true matte box also includes a slot for quickly adding filters in front of the lens.  These go for anywhere from $130 to $250 or more.  They're useful, but not what I'd call a necessity on every shoot – they're great for shooting outdoors, when you have less control over the available light.  If you look around online for a "DSLR Matte Box," you'll find a lot of plastic sunshades in the $30 range.  These are different from "true" matte boxes in a few ways – most notably, they're cheaply made of plastic instead of metal.  They also lack the filter slot and don't snug down around the lens like their expensive counterparts.  In other words, they really only function as crude shades.  That being said, these cheap "matte boxes" are probably the easiest way to give your DSLR a professional look.  The square shades have an iconic look that people immediately associate with high-end equipment.  That alone may be worth $30 to you – the added functionality of an (albeit cheap) articulated shade makes it a pretty easy recommendation.  However, if your budget is tight and you're really counting every dollar, I'd invest in something like the Fifty Dollar Follow Focus before a matte box.
Like a follow focus, remember that a matte box usually requires a rail system for mounting.
Microphone: Rode VideoMic
Cost: $150, $160 with "Windjammer"
Unless you're making a silent movie, you need an external microphone.  On-camera mics are generally less-than-stellar; on DSLRs, they're universally terrible.  While it won't give you the fidelity of a high-end XLR shotgun microphone, the Rode VideoMic will give you pretty great audio that plugs directly into your camera and mounts to either a hotshoe or boom pole.  For portability and price, the Rode is hard to beat – and for ten bucks more, you can grab a bundle with a "Windjammer" (also known as a "dead cat").  The next step up would probably be the slightly classier VideoMic Pro, for around $220.
Audio Recording: Tascam DR-40
Cost: $170

Edit, April 22, 2013 – Originally, I suggested running audio from the external microphone to a headphone amplifier, like this Rolls HA204, then using one line out for headphones and the other to connect to the camera.  After doing more research – and looking at the Rolls device first-hand – I can no longer recommend this approach.  While the Rolls unit operates as described, monitoring audio before it reaches the camera will not give accurate results because it fails to account for the camera's built-in (low quality) pre-amplifiers.  This could theoretically be worked around through trial-and-error, but the device is clearly designed as a desk-top unit – it's quite large – and is not well-suited for mounting to a camera rig.  Although I still believe this approach could be viable, it is, at best, an inelegant solution.  I have altered this section to reflect this.  
Most pros use an external audio recorder when using a DSLR for video production.  One reason is that cameras like the T3i typically don't have headphone ports – after all, capturing audio is not their strong point.  Using an external audio recorder – which does have a headphone port – and syncing it with the video in post-production will give the best audio quality.  A portable recorder like the Tascam DR-05 or the Zoom H1 will serve this purpose nicely – they will work with either an external mic (like the Rode) or their own high-quality integrated microphones.  Both go for about $100.
If you're willing to spend a little more (and good audio is definitely worth investing in), the Tascam DR-40 will add some serious functionality to your setup.  In addition to a built-in, adjustable microphone, the DR-40 adds two 1/4 inch inputs and two phantom-powered XLR ports.  The unit can record from multiple inputs simultaneously and can also record a second "safety track" at a lower input level.  For between $150 and $180 (depending on the deal you find), this is a tremendous value that will allow you to upgrade your audio rig – either with wireless lavaliers or an XLR shotgun microphone –  in the future.
The DR-40′s most direct competitor is the highly-regarded Zoom H4N.  The H4N adds a number of other bells and whistles and features a sturdier metal body (the DR-40 is almost entirely plastic) for around $270.  It's a great device, but the functionality of the DR-40 is sufficient for my needs.
I already have a pair of headphones, but – if you're in the market – I'd recommend going with an over-the-ear style, like this pair from Audio Technica.  I find over-the-ear headphones the most comfortable for long shoots, plus they help block out external noise and look the most professional.  If you show up with a pair of iPhone earbuds, expect skeptical looks.
Additional Power: Meike Battery Grip
Cost: $25
Shooting video on a DSLR can drain the battery fast.  Using a battery grip lets you double the capacity.  Plus, since most grips have access panels on either the side or back (as opposed to the bottom), they also allow you to quickly replace batteries, without removing the camera from its tripod or rail mount.  The last thing you want is to grind your shoot to a halt while you fiddle with taking your camera off its quick release plate to change a dying battery.  For a little more money, you can grab a version with an LCD display, but don't bother with Canon's $180 official grip – not when there are so many low cost alternatives available.
While you're at it, you might as well pick up some extra batteries.  You can never really have too many and, as with the grip, there are lots of inexpensive third-party options.
Viewfinder: EZPhoto LCD Viewfinder Extender
Cost: $20, plus another $9 for a swivel screen adapter
Even on the T3i's nice, bright three-inch LCD screen, really getting the focus dialed in can be a challenge – and using a small, unshaded LCD screen in bright sunlight is a nightmare.  One option is an external monitor, like this 7-inch battery-powered Lilliput screen, which you can get for less than $200.  If you have the cash, it's an impressive addition to your production arsenal, but be aware that there are some issues with using an external monitor with a DSLR.  A far cheaper option is a simple viewfinder extension.  They magnify the image, require no batteries, and allow you to use the screen even in direct sunlight.  They run from about $20 into the hundreds – high-end models have features like dioptic correction for users who wear glasses.  For my purposes, the low-end of the spectrum is just fine (although the ones in the $50 range tend to look a little classier).  Since I like to fold out the T3i's articulating screen when I film, I'm pairing the viewfinder with this inexpensive sleeve, which is specifically designed to hold a viewfinder against the screen when it is flipped out.  This is a cheap, functional upgrade that will really help your DSLR function more like a dedicated movie camera.
I've done a lot of research to find equipment that will provide solid value, but I know that it still adds up quickly.  Keep in mind that, even with the cost of the T3i included, all of this gear comes in at less than the cost of a mid-range professional camcorder, like the Canon XA10 – or, in all likelihood, several days of rentals.  In addition, a number of the "big ticket" pieces – such as the tripod and microphone – would be a necessity for any camera set-up, not just a DSLR.  There are also more inexpensive options out there, if you're willing to sacrifice some functionality and/or build quality.  This lighter tripod will still have you looking like a pro for less than $100.  If you don't plan on shooting handheld, but still want to use a rail system for a follow focus or matte box, you can get started for as little as $30.  You could also forego an external microphone completely and record all your audio with something like the Tascam DR-05, which would save some money, but require you to sync your audio in post-production.  I would strongly urge you to invest in a viewfinder and battery pack, but items like a stabilizing rig, follow focus, or sunshade might be a lower priority, depending on your needs.
The rising popularity of shooting video with DSLRs means that there are a ton of options available.  While your DSLR might not be as "shoot-ready" out of the box as a dedicated video camera, a little gear can go a long way.  In my next "Gearing Up Cheap" post, I'll show you my equipment setup assembled and ready for action.